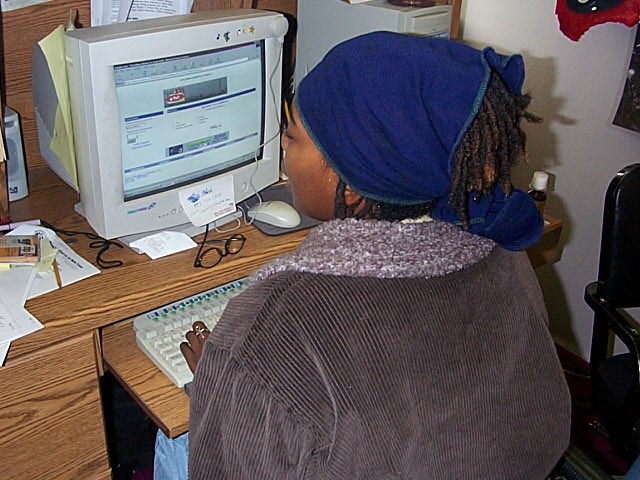 This was me hyperfocusing, checking personal email when I was supposed to be working. It was a cold and boring day. Yeah, that's it.
who i be
d.o.b: 01/30/75
sex: none
nationality: africana
location: third coast
aim: yeyesadio
edumacayshun: self-taught all the important stuff
diet: cigarettes & sunshine


current plan(s): good mama, student, bookseller.

future plan(s): great mama to an unschooling grrl, pospartum doula, lactation consultant, midwife, and a house with a yard in the deep south.

interests: gullah and yoruba, the american south, radical politics, thrift stores and garage sales, vodka & spoken word poetry.
i'm anti-social. i'm obsessed with the past. i learned the word "anachronism" at the age of 12, and that was my introduction to identity politics. i used to write poetry, but i've been suffering from writer's block for the past two years. i'm a survivor. i review books occasionally for sites like this one. i say "y'all" a lot, like any southern gal worth her salt. i founded a message board for progressive mothers of color. sometimes i'm afraid to go outside because i'm a girl. but i go anyway.
since the future ain't now and mama needs bank, i run a completely capitalist venture designed to keep me out of The Man's pocket and at home with my daughter as much as possible - selling books online. i have a store at amazon. if you have any books lying around you wanna get rid of and wanna help a po', broke, lonely and strugglin' single student mama out, see my swap page. hey, information should be free, but i got bellies to fill.
Val, Mica, Tanya, me and Hugo, one of the sexiest men in Denver and a mean salsa dancer.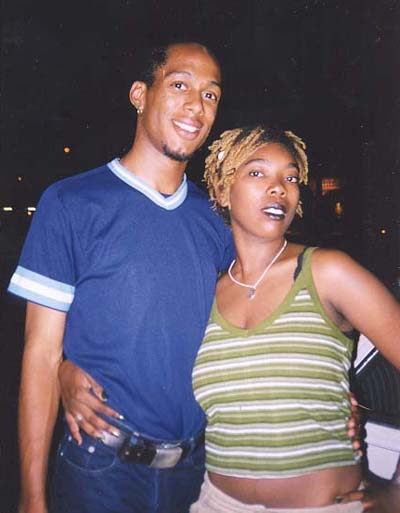 Me and Dexter, a 9/11 survivor and a mean hip-hop dancer. (Notice a pattern here?)